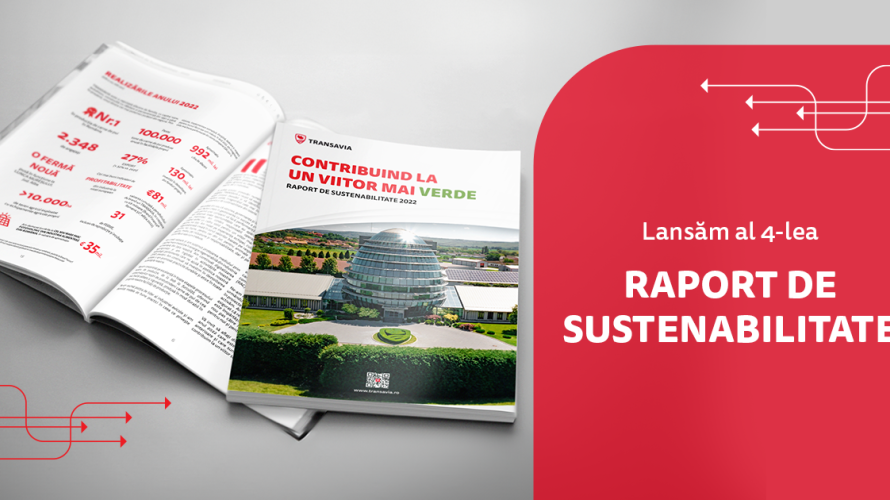 "Contributing to a greener future", TRANSAVIA, Romania's leading chicken meat market, marks #SustainabilityDay by publishing its 4th Sustainability Report
TRANSAVIA, Romania's leading chicken meat market, marks #SustainabilityDay in Romania by publishing its fourth Sustainability Report. With the motto "Contributing to a greener future", the report for the financial year 2022 illustrates the company's firm commitment to contribute to a more sustainable future and presents the ambitions of the reputed family business with 100% Romanian capital for further sustainable development.
"We are committed to being an example of excellence and encouraging positive change in the way our sector operates. In our endeavour to make a significant contribution to the transition to a greener economy, TRANSAVIA has initiated a major investment in green energy in 2022, worth around €35 million from its own funds. With this essential step in our development towards a green future, we will secure the energy needed for our production processes and reduce our impact on the environment", says Ioan Popa, President and Founder of TRANSAVIA.
The year 2022 was a unique and challenging year for the food industry and the world. Without a full recovery from the pandemic, the outbreak of war in Ukraine has generated an unprecedented humanitarian crisis and has led to the disruption of economic systems and society at large. In addition, the profound impact of exploding prices and runaway inflation, prolonged drought and aggressive weather events have led to pressures felt at the macro level as well as at the individual level. Despite these numerous challenges and volatile markets, TRANSAVIA successfully navigated through this challenging environment and identified opportunities for solid growth, recording its best economic and sustainability performance in history.
"TRANSAVIA continues to demonstrate that sustainability and economic success can go hand in hand, while our commitment to people, environment, animals and communities remains unchanged. As a market leader, we are on a mission to educate, inspire and take action to help mitigate environmental impact and build a greener, more sustainable, better future for all. Through everything we do we aim to inspire the food industry in our country, and beyond, to transform and take real action to contribute to the reduction of environmental impacts and the development of a more sustainable society", says Ioan Popa, President and Founder of TRANSAVIA.
The new Sustainability Report transparently details the results of activities in relation to key aspects of sustainability, such as people, environment, animals and communities, and analyses the impact at all stages of the value chain, according to TRANSAVIA's 100% integrated business model: from grain production to animal welfare, from product certification to processing and distribution.
"Our vision for a greener future, set out in our 4th Sustainability Report which we are publishing today, on Sustainability Day, is all the more important as climate change is the greatest challenge of our time. We have set ourselves ambitious targets in relation to the United Nations Sustainable Development Goals, which include significantly reducing carbon emissions, maintaining the highest safety and quality standards for products, continuously improving animal welfare, accelerating digitisation, using up to 100% renewable energy throughout the production chain, engaging in projects with a positive impact on communities. All this while continuing to deliver authentic chicken meat products of the highest quality and safety in a responsible way. And the new Report shows the progress we have made, from grain to fork," says Theodora Popa, Vice President TRANSAVIA.
Some of the company's most important results in 2022 in the sustainability field:
Leveraged by a unique business model in the region, TRANSAVIA vertically integrates its entire operation, ensuring quality, safety and sustainability across the entire production chain from bean to fork. This strategic approach has enabled the chicken meat market leader to make remarkable progress on its strategic sustainability goals across all four strategic pillars:
Responsible production:
100% of TRANSAVIA's poultry meat production is BRCGS Food Safety (British Retail Consortium Global Standards) and FSSC 22000 (Food Safety System Certification) certified.

100% of the broiler farms, hatcheries and breeding farms are ISO 22000:2018 certified.

100% of compound feed production is ISO 22000:2018 certified.

TRANSAVIA is the only poultry meat producer in Romania that has obtained GlobalG.A.P vers certification. 5.2.

100% of the products are subject to third party certification audits attesting to the quality and safety of both the products and the operations undertaken to produce safe products for consumers.

The company has recorded ZERO incidents of non-compliance with current legislative regulations regarding consumer health and safety.
Environmental care:
659,845 tonnes of CO2 were reduced by recycling packaging waste.

8,644 tonnes of CO2 were reduced by reusing wood-pallet packaging for hire.

The company had up to 99.45% waste recovery.

the company has reduced the concentration of dust by about 91% compared to the legal maximum permissible value, values obtained through assessments carried out by the accredited Environmental Laboratory.

TRANSAVIA recorded 4120.4 KWP installed power through photovoltaic panels in 2022.
Responsibility towards employees:
In the reporting year, the company had 2348 employees, with a gender balance of 42.9% women.

TRANSAVIA employees are paid above the minimum wage set in Romania, always on time and there is no discrimination or unequal opportunities and treatment between women and men. In addition to the salary, employees receive a number of additional benefits and advantages based on performance.

Job stability is ensured for each employee and salary obligations and to state institutions are always paid on time.
Involvement with social impact:
The total value of sponsorships was over LEI 6.2 MILLION, contributing to the support of 39 organizations and entities, in the social, medical, educational, sports, university and TAUs fields and supporting medical expenses for the treatment of 6 individuals.

The positive impact on the communities in which the company operates was achieved in 3 priority areas: Education, Health, Sport. In addition, the company has provided aid to refugees in Ukraine since the early days of the war by supplying more than 10 tons of chicken meat products, as well as providing accommodation and meals for a group of 25 people for more than a month.
The full Sustainability Report can be accessed here.