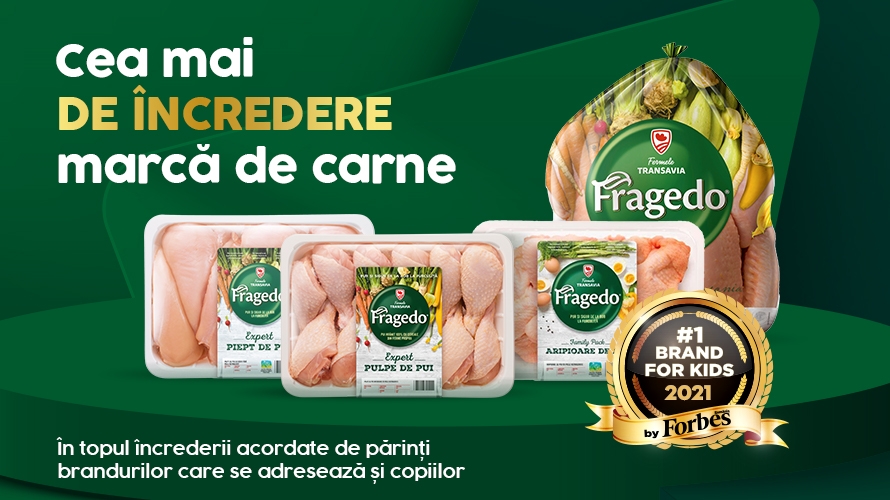 Always done exactly the right way, Fragedo is "The most trusted brand of meat", in the top of the trust given by parents to brands that also address children, Forbes Brands for Kids
Bucharest. November 26, 2021. Fragedo, the flagship brand of TRANSAVIA, earned "The most trusted meat brand" prize at the 2021 edition of the Forbes Brands for Kids Summit. The prizes were awarded based on a study conducted by Forbes Romania and the D&D Research Institute that investigated the safety, quality and reliability of products that are targeting children.
Fragedo, the most popular brand in its category, was awarded the prize of THE MOST TRUSTED MEAT BRAND, confirming once again that it is always in the top of Romanian consumers' preferences due to its quality, at the highest level, since its launch.
"For us, at TRANSAVIA, every child is important and we want them to have all the conditions to develop in a healthy and harmonious way, and a recognition like the one that FRAGEDO receives with the award "Forbes # 1 Brand for Kids in the category Meat brand" means a new confirmation that we are doing things exactly the right way. The trust we enjoy from consumers, especially parents who include Fragedo chickens in their children's diets, is based on the promises we keep every day: guaranteed safety and the superior quality of our products, always the same taste, honesty and transparency in our communication", says Theodora Popa, Vice President of TRANSAVIA.
Always made exactly the right way, the Fragedo chicken always provides consumers with premium quality. Fed 100% with cereals from TRANSAVIA's own farms, the Fragedo chicken is appreciated for its tenderness and flavour by the most demanding consumers, always with the same taste and the same quality, with superior nutritional value, in all and every variant that is chosen and cooked by consumers.
The strategy, from grain to fork, consolidates the position of market leader that TRANSAVIA honours with products of the highest quality, at certified food safety standards, being the only producer that raises all its chicks on its own incubation and growing farms, using food from the 10,000 hectares cultivated in its own division of vegetable farms.
During the Summit Forbes Brands for Kids event, current topics related to nutrition, care, health and lifestyle were debated and brands that excel in terms of responsibility and adequacy to the requirements of the contemporary Romanian family were awarded.