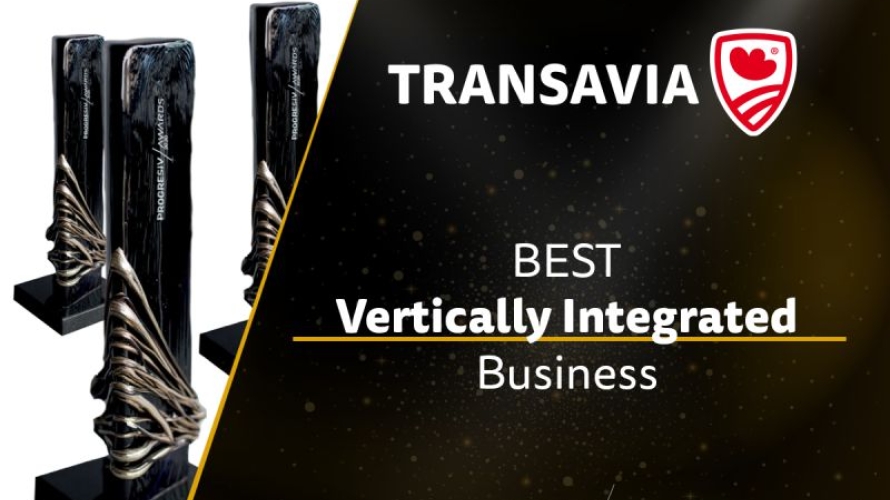 TRANSAVIA – The BEST VERTICALLY INTEGRATED BUSINESS
TRANSAVIA's unique strategy, from grain to fork, the outstanding results, and the solidity of the business were rewarded, as the Best Vertically Integrated Business at the Progressive Awards 2022 Gala (7th of April, 2022). This prize, awarded based on the evaluation of the jury of specialists and the FMCG professionals' vote, is a new acknowledgment of the vertically integrated business model efficiency adopted by the domestic chicken market leader.
TRANSAVIA, a family business with 100% Romanian capital, keeps its promise of the job well done throughout the entire production chain: from growing and harvesting cereals to the feed mill, from rearing, hatching, and breeding farms, to slaughterhouses and processing plants, and up to distribution and fair and honest communication.
"We are the only producer in the country who produces and raises all the chickens, feeding them with cereals from our vegetal farms, processing them exclusively in our own production plants, and transporting the products with our fleet. Through everything we do every day, we respect our customers, to whom we offer quality, safe products, with consistent perfect taste. As well, we care about the communities we operate in and act responsibly for the environment. This award, received because of our over 2300 employees' contribution, honors us and motivates us to be better and better in everything we do, from grain to fork", says Theodora Popa, Vice-Chairman of TRANSAVIA.
TRANSAVIA operates in 8 counties, owing currently 29 poultry farms, 4 vegetal farms, a feed mill, 3 state-of-the-art slaughterhouses, and a meat processing factory, where it annually produces over 100,000 tons of the best quality chicken. About 25% is exported mainly to European Union countries.
As the market leader, TRANSAVIA continues its mission, supporting the grain to fork strategy through investments aimed at sustainable business development and the constant reduction of the ecological footprint. At the same time, TRANSAVIA maintains efforts to honestly communicate for educate the market and consumers on the quality of meat products and food safety standards.