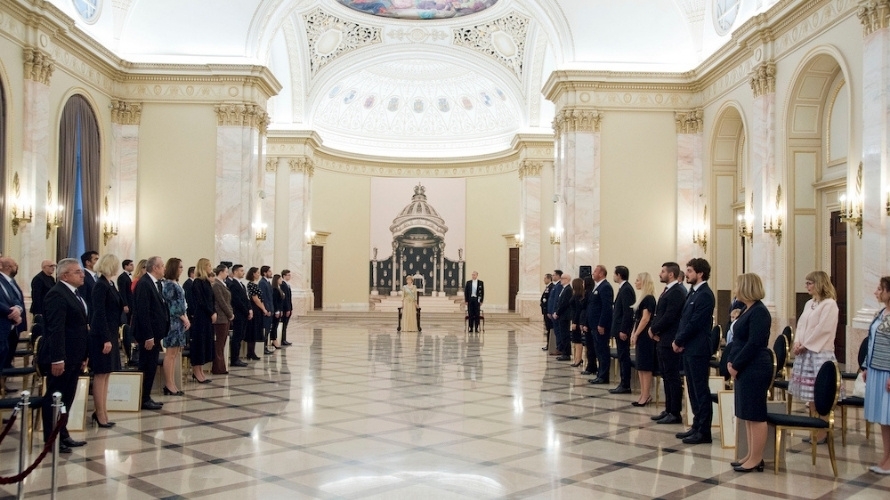 TRANSAVIA is recertified, for the 6th time, as Supplier of the Royal House of Romania
Alba Iulia, 26th of October 2022. TRANSAVIA, received last night, for the 6th time, the reconfirmation of the status of "Supplier of the Royal House of Romania", during a ceremony held at the Throne Hall, at the Royal Palace in Bucharest.
The new certificate was handed over to the company's representatives by Her Majesty Margareta, Custodian of the Romanian Crown, during the high-class event, attended by other suppliers.
" The reconfirmation of the status of Supplier to the Royal House of Romania, which we obtained for the first time 16 years ago, makes us happy and honors us because the prestige that arises from this makes us responsible and obliges us to always keep our promise to deliver the highest standard of product quality, to demonstrate consistency, reliability and high professionalism, from the grain to the fork" - says Theodora Popa, Vice President TRANSAVIA.
Being a Supplier to the Royal House of Romania implies a high standard of products or services, high professionalism, reliability, and a solid reputation. Supplier status is offered for three years, after which its extension for a further three years may be considered. TRANSAVIA was awarded for the first time the status of "Supplier to the House of His Majesty King Michael I" on 18 October 2006, at an official ceremony held at the Elizabeth Palace. This quality was then renewed in 2010, 2012, 2015, and 2018.
The high food safety standards as well as the quality of the products, recognized locally and internationally, are due to the vertically integrated business model and the responsibility with which the 2300 employees act with discipline and respect for the rules, always doing things the right way.
Using the best practices and the strictest protocols throughout the production and distribution chain, from the grain to the fork, TRANSAVIA is the only producer in Romania that produces, raises, and processes all its chickens in its facilities, with 30 poultry farms, including hatching and breeding, 4 vegetal production farms with 10,000 ha of cultivated area, a feed meal, 3 state-of-the-art slaughterhouses, a meat processing plant and its fleet of vehicles ensuring the safe transport of raw materials and chicken meat products every day.
The market leader in chicken meat has raised the sustainability bar for the sector in which is operating in, investing in the largest green energy project in the food industry in Romania, aiming to produce 80% up to 100% of the needed energy from its sources, ensuring greater efficiency and a reduction of the environmental footprint by about 18 million kg CO2 annually. TRANSAVIA is the only poultry business publishing Sustainability Reports since 2019. As well, it is the only Romanian company that took on the standards to be a co-signatory of the EU Code of Conduct on Responsible Business and Marketing Practices in the Food Sector.