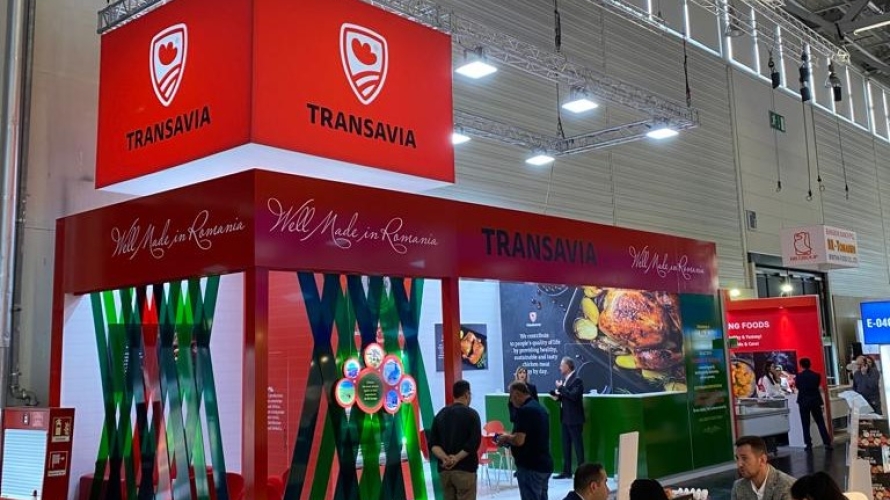 TRANSAVIA, Romania's poultry industry leader, reveals its success story, from grain to fork, at ANUGA 2023
TRANSAVIA, the largest poultry industry producer in Romania, is preparing its exhibition booth to bring authentic, safe and high-quality products to this year's ANUGA, the most important international trade fair for the food and beverage industry. From 7-11 October 2023, TRANSAVIA products and success story can be discovered at stand E41 in hall 9.
TRANSAVIA's participation to ANUGA 2023 is a very good tool for attracting new customers, developing personal relationships at professional level and identifying valuable opportunities. This event provides a good environment for developing new production directions as well as for initiating discussions that can later evolve into new export contracts.
Romania's largest poultry producer currently exports daily, with its products reaching consumers' tables in almost 30 countries, including Bulgaria, Croatia, Congo, Estonia, France, Germany, Greece, Hungary, Ireland, Italy, Lithuania, Malta, the Netherlands, Poland, Serbia, Slovakia, the United Kingdom and Serbia. This success is due to the entire TRANSAVIA team, who, from the bean to the fork, make an important contribution to the safety and consistent high quality of the products offered.  
"Our biggest asset is that we are 100% integrated, from grain to fork, always providing the highest quality, safest and tastiest chicken products. The experience of almost 20 years of exporting has had a positive impact on Romania's image as a chicken exporter, which is now appreciated worldwide. An enormous advantage we have is the seriousness with which we honour contracts and the openness we have to find optimal solutions", says Daniel Opriș, TRANSAVIA External Sales Director.
International trends and opportunities for chicken meat exports
As with anything done properly, it is necessary to understand what consumers expect from other countries, how the export business is done, what the partners' requirements are, what the strengths are, what needs to be improved in the offer.
"In a fast-changing world, one where food manufacturers are in a constant battle for a bigger share of their category's shopping basket, we need to be highly informed, agile and forward-looking. Trends are changing at an unprecedented pace and our customers everywhere are increasingly demanding and informed. TRANSAVIA's participation at ANUGA 2023 ensures we are connected to the latest industry trends and gives us the opportunity to interact with leading industry partners and experts who can learn about our authentic, safe, highest quality products, our unique 100% integrated, grain-to-fork business model in the region, and our actions and ambitions in the sustainability sphere. We are counting on these aspects to expedite our distribution abroad and to increase our international market share in the future", says Daniel Opriș, TRANSAVIA External Sales Director.
The main theme of this year's edition "Sustainable Growth - moving towards a more sustainable food future together with industry", aligns perfectly with TRANSAVIA's vision and efforts to constantly reduce its environmental footprint, thus contributing to a healthier environment for future generations. Through its sustainability strategy, from grain to fork, the respected family business acts responsibly and sustainably towards people, animals, communities and the environment.
"At TRANSAVIA, we believe that economic development and sustainability go hand in hand. We are committed to both the safe production of the very highest quality chicken meat and to ethical and responsible business principles from grain to fork. In fact, we are pioneers in the industry, both by investing heavily in sustainable solutions, including green energy, and by the transparency we show, being the only producer in the sector to voluntarily publish Sustainability Reports since 2019. We are proud to be the only Romanian company that has assumed the standards to be a co-signatory of the EU Code of Conduct on Responsible Business and Marketing Practices in the Food Sector, thus assuming our commitment to contribute to a more sustainable food future", says Theodora Popa, Vice President TRANSAVIA.
From 7-11 October 2023, TRANSAVIA is showcasing its unique 100% vertically integrated business model, its success story, its commitment to sustainability and its authentic, safe and high-quality chicken products at stand E41 hall 9 at ANUGA Meat, Cologne, Germany. One of the world's largest trade fairs for the food and beverage industry brings to the fore the latest insights into pioneering developments in the meat and charcuterie industry.